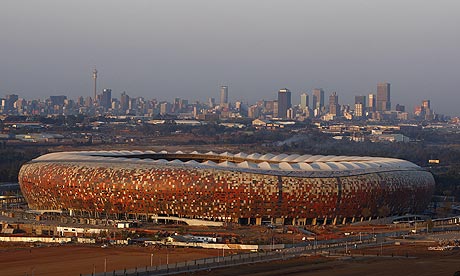 Soccer City stadium in Johannesburg, the venue for the opening game and the final of the World Cup.


South Africa sets out hardline crime policy
When it was announced that South Africa would become the first African nation to host the World Cup Finals, some prophets of doom in the press grumbled that its sky-high crime rate would make it an unsuitable location to host such a big event.

Fans, particularly those travelling in family groups, would be frightened off by South Africa's deadly reputation, they said. Well, as the finals approach, it is becoming clear that the group that should be most frightened isn't the fans - it's the criminals. With admirable straightforwardness, South Africa's deputy minister for police has announced that there will be a shoot-to-kill policy for armed criminals.

The name of the security operation for the World Cup Finals? Operation Wanya Tsotsi, which translates as "You will soil your pants, criminal." He said, "We say we are going toe to toe, tooth for tooth, nail for nail with the criminals. Street by street , corner to corner, we will find you."

We like. The minister for police has given the operation his backing, saying, "We are tired of waving nice documents like the constitution and the human rights charter in criminals' faces... We are going to meet these thugs head on, and if it means we kill when we shoot, then so be it."

South Africa's parliament will consider amendments to the law allowing the police to take a much tougher line on violent crime within the next few weeks.
The Guardian reports that currently police are only allowed to shoot to kill if their lives or the lives of bystanders are threatened. Civil liberties groups fret that the new proposals could mean a return to "apartheid era policing", when police could shoot fleeing criminals in the back. South Africa's top cop made his pledge as six armed thugs were killed by police during the robbery of a cash van in Pretoria Permalink